'Tis Almost The Season To Party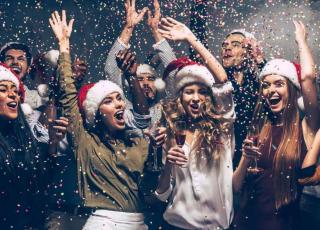 At the Stormont Hotel we have a wide range of entertainment to offer that will help you celebrate your Christmas Party Night in style!
Whether you are looking to have an intimate party or that memorable, once a year party for the entire office, the Stormont Hotel Belfast has everything to offer.
Christmas Party Nights will run from 6th – 21st December and include a delicious four course meal followed by live entertainment. Entertainment at our Party Nights includes music from Conspiracy and star guest appearance from the All New Jersey Guys. Or why not book our Dine and Disco Night which includes 70's and 80's magic.
Our Christmas Party Nights are available from £27 per person. To enquire about one of our party nights please click here
Cabaret style lunch in the City
Join us for a four-course cabaret style festive lunch on Friday 20th December. These cabaret style lunches have live background music from the All New Jersey Guys and disco with all the best songs being played.
Lunch is served at 1pm but guests are welcome to come along from midday. Our cabaret style lunch is priced from £35 per person.
Contact our Christmas Party Night planner today for more information via christmas@stor.hastingshotels.com or call +44 (0)28 9067 6012.

It's Showtime at Stormont Hotel
In addition to Christmas Party Nights, the Stormont Hotel Belfast will also host our famous tribute and live shows. These fabulous shows can make the perfect Christmas gift or provide an ideal opportunity to catch up with friends and family after the busy festive period. This year the Stormont Hotel will host 15 shows between December and February including a live show by Brian Kennedy and tribute shows such as The Björn Identity, Robbie Williams, Tina Turner, Dolly Parton, Take That and Bohemian Rhapsody.
For more information please contact our Christmas Coordinator on +44 (0)28 9067 6012 or email christmas@stor.hastingshotels.com