Stress-free Christmas Dinners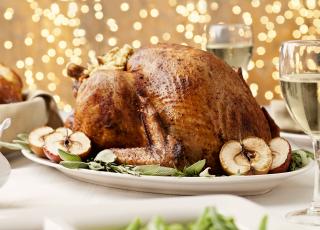 Take the stress out of your Christmas Dinner. Our Head Chef at the Stormont Hotel, Jay Eisenstadt has put together this list of tips to remember when you're planning your festive feast.
Prep prep prep! Its all in the preparation, do as much as you can in the days before Christmas
Clean as you go so the kitchen isn't a bomb site at the end of the day!
Make your soup the day before (soup always tastes better the next day)
Cut your vegetables the day before and even blanch them off (cook slightly then shock in cold water) to reduce the cooking time on Christmas Day
Slow and Low – Get your turkey in early (very high heat 200 degrees for the first 30-40 minutes to get that lovely brown skin) then drop it down low (160 degrees) and cook it slowly until the turkey is cooked thoroughly. Don't forget to baste. Let your turkey rest at least 20 minutes before cutting into it.
A handy trick that might be a bit of a shock is to cut the drumsticks and the wings off the bird (your butcher can do this for you if your nervous) and cook them separately as they take much less time to cook then the rest of the turkey
Make your brandy sauce early in the day and let rest on the kitchen counter, warm right before serving adding the brandy at the last minute for full effect of flavour
Nominate other family members to do the cleaning, washing the dishes and such.
Remember to sit down and enjoy your dinner yourself
For a completely hassle free Christmas Day, we have a limited number of remaining places at the Stormont Hotel for our Grand Buffet Lunch which includes a visit from Santa Claus and a gift for every child.
Prices £105 per adult and £60 per child under 12. Contact our Christmas team now on 028 9065 1066.