Hotel Manager of the Year Award for Jonathan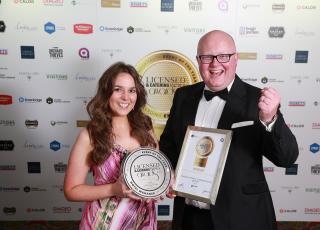 Jonathan Topping, General Manager at The Stormont Hotel in Belfast has claimed the title of Hotel Manager of the Year at the seventh Licensed & Catering News Gala Awards.
The awards were held at the Europa Hotel in Belfast on in June. A capacity audience of more than 450 guests from across the hospitality sector attended the annual event, including representatives of key local companies and trade bodies and many rank-and-file members of Northern Ireland's thriving licensed, catering and accommodation sectors.
The overall sponsor for the 2017 LCN Awards was linen services provider, Linencare and the event was supported by TourismNI and media partner, Q Radio, who staged a live broadcast in the foyer of the Europa at the beginning of the evening.
The 2017 Licensed & Catering News Awards were independently judged by Spotcheck NI and presented at the Europa by broadcaster, Pamela Ballantine and Q Radio breakfast show host, Stephen Clements.
The title of Hotel Manager of the Year was one of 17 awards distributed on Friday evening and collecting the award in person, Jonathan said:
"It's great to have won the award. It's been an exciting year in hoteling. I've been lucky to have a board of directors whole-heartedly support continuing development at the Stormont Hotel, and I have to thank Howard Hastings for his support over the past year."
Image – Jonathan Topping is pictured with Kirsty Newell of category sponsor, Alchemy Hospitality.