Hayley & Christopher's Traditionally Modern Wedding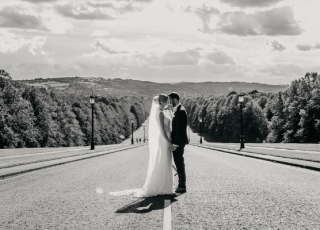 A Traditionally Modern Wedding
Hayley & Christopher's Real Life Wedding –

We were delighted to host Hayley and Christopher's fabulous Wedding on 22nd September 2018, Find out more about their big day below.

Ceremony at Seaview Presbyterian Church

How They Met

Christopher Bowman was on a night out in Belfast with his football team when he met Hayley Neill, who was at the bar with her friends. Stepping outside to get some fresh air, she bumped into Chris and they got to talking all night! Chris walked Hayley back to her friends and they exchanged numbers, immediately texting the next day. They went on a date the next weekend to the bowling alley.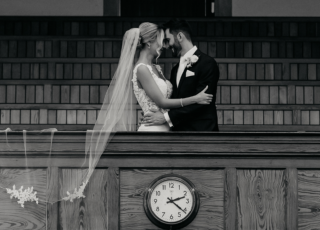 Hayley knew Chris was the one when on holiday in Orlando with family a few months later. She was missing him terribly and after a day without WiFi, she came back to her villa to loads of messages from him! 'I realised from then on I was probably never going to go for very long without him again!' she laughs.
The Proposal

In August 2016, Chris bought a ring and asked the permission of Hayley's dad to marry his daughter. Having planned to pop the question in Ibiza, he found he couldn't wait a whole month to propose! Hayley was getting her hair done on the Saturday and Chris text her asking if she'd like to go for a long walk later on however when the time came to go, it was raining!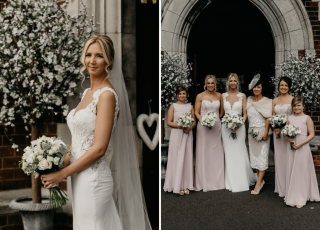 No matter how much he tried to persuade her, Hayley did not want to mess her new hairstyle! He ended up getting down on one knee in their kitchen with their puppy in his arms. 'It took me by surprise,' says Hayley, 'I had no idea – it was perfect.'
The Day

The couple picked the Stormont Hotel to host their celebrations. Hayley wanted a modern, elegant and simple wedding, and one that stuck with tradition. 'I love the traditional elements from a wedding and wanted everything to be in keeping with this.' The couple's day had a relaxed vibe, with the main focus being on love and family.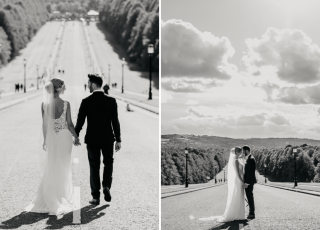 Hayley also did not have a stylist or wedding planner, and decided to do everything herself. 'It was hard work,' she comments, 'But I am proud of how it all came together.' The bride used Pinterest as a great way to pick up ideas and styles!
What The Bride Wore & The Rest…

The bride chose a Nicole Spose dress from LA Bridal House in Carrickfergus. Having visited another boutique before this, Hayley had been convinced she had found her dress, but decided to check out this store just to be sure. 'It's so true when people say you just 'know' when you've found the one!' Hayley's dress was a lace and pearl bodice complemented with a single tier veil with beading and lace. 'The staff at LA Bridal were so friendly and helpful. They really did go above and beyond for me.'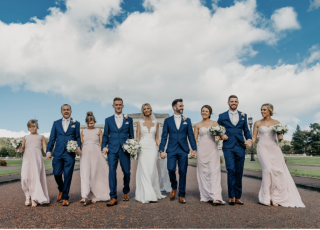 The bridesmaids dresses also came from Carrickfergus, from a boutique called Exquisite Bridal. 'I love that they looked quite traditional but modern at the same time!' comments the happy bride.
Photographer
The couple share why they chose Mark Barnes Photography to capture their big day.
'We just really loved Mark's work. We had been looking at local photographers and Mark's work really stood out. He was so friendly and we were reassured from the offset that he was the right guy for the job – he really put us both at ease.'
Décor
The bride's flowers were roses, white to be precise. 'I'm a big fan of roses so to have a bouquet filled with white roses made me very happy!'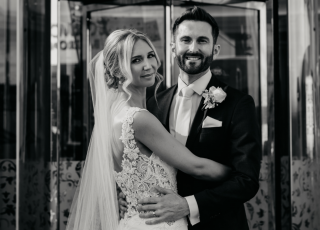 For the room décor, Stormont Hotel provided a fairy light backdrop for the top table, along with chair covers and candelabras for the centre pieces. Hayley's florist dressed the candelabras with fresh flowers for a simple and elegant touch!
Everything else, Hayley did herself. 'I ensured personal touches were felt throughout the room with pictures of family and a sweet station as a tribute to my dad; the sweet were all his favourites and a real hit!'
Ryan Patrick Design created and designed the stationery for the day. After chatting over the phone and email, Hayley had her idea. Then changed it again! 'Originally I wanted a modern, minimalistic design but changed it to a floral design – it looked very traditional which I loved!'
Food
The choice of food was based on everything the couple love and enjoy. For starter they had Melon followed by Carrot and Coriander Soup, with a main of Daube of Beef followed by a Trio of Mini Desserts. 'It was delicious and was one thing all the guests commented on,' says the couple.
The simple and elegant cake was designed and created by NI Cake Design. The owner of the company, Landa, knew what Hayley wanted without the bride even having to say! 'She created something better than I could have ever imagined,' comments the bride. Landa also took a sample of the bridesmaid dresses and incorporated the colour and lace detail onto the cake.
Favourite Moments

Christopher, 'It has to be seeing Hayley walk down the aisle. She looked stunning.'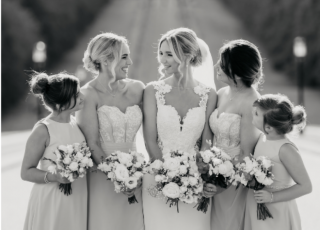 Hayley, 'When I walked down the aisle and saw Christopher waiting for me. He looked so handsome in his suit.'


Hayley & Christopher's Dream Wedding Team
The Venue ~ Stormont Hotel
The Dress ~ LA Bridal House
The Photographer ~ Mark Barnes Photography
The Cake ~ NI Cake Design