Hastings Hotels Celebrate Long-Serving Employees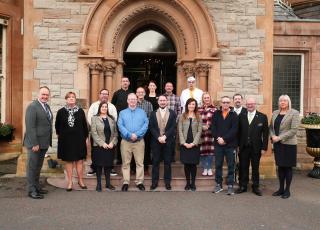 Hastings Hotels has paid tribute to some of its longest serving colleagues at an event in the Culloden Estate & Spa.
The achievements include 14 members of staff – including a Kitchen Steward, Head Chef, Restaurant Supervisor, Night Porter, Executive Head Housekeeper and Cellars and Stores Manager – who have been with the group for a combined total of 278 years.
Howard Hastings, Managing Director of Hastings Hotels said: "Our employees are the key to our ongoing success and as a group, we would not have the reputation we do today if it was not for them. Given the challenging times we have all experienced over the last 20 months, now more than ever, it is important to recognise and thank all of our employees and also celebrate some of our longest serving team members for their hard work and dedication.
Our employees speak more than anyone for the culture and soul of Hastings Hotels. They are a vital part of the recovery process as we continue to navigate out of the ongoing pandemic. They know the way we work and what we do better than anyone else and they have an important role in guiding our new colleagues that have recently joined the company in helping as we train them to provide the first-class service that our guests know to expect from Hastings Hotels."
"I am extremely proud to acknowledge some of the group's longest serving staff members, including 14 colleagues who have been with us for either 15, 20 or 25 years and between them have 278 years employment. This includes Charles Logan who is a Kitchen Stewart in the Europa Hotel; Jonathan Wade, Head Concierge in the Grand Central Hotel; Finian McKinney who is a Food and Beverage Assistant at the Everglades Hotel and Andrew Godfrey who is a Night Porter at the Culloden Estate & Spa.
The efforts of our employees in every department across our hotels and Head Office don't go unnoticed and I would like to thank them for all their years of hard work and commitment," Howard added.