CIM Members get ahead with Digi-talk The Forum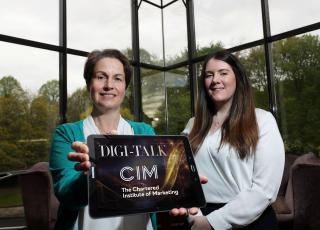 Members of Hastings Hotels monthly Digitalk: The Forum can now gain credits if they are completing the Chartered Institute of Marketing's 'Chartered CPD Programme'. The innovative forum, which takes place at the Stormont Hotel, is led by a different digital expert each month and covers a wide range of topics throughout the year.
Eileen Curry, Chair of CIM Ireland said: "We are pleased to partner with Hastings Hotels to support the professional development of our members. The Chartered CPD Programme is open to all CIM members and provides a focused and logical way to keep learning as your career progresses. CIM Affiliate or Associate members are required to complete at least 35 credits of CPD activity annually. By attending Digitalk: The Forum, our members can not only learn from different digital experts, but the events are now eligible for inclusion in their CPD record."
Donna Barton, Digital Marketing Executive of Hastings Hotels said: "The fact that the Chartered Institute of Marketing has recognised Digitalk as part of its Chartered CPD Programme shows the positive impact the forum is having on the development of marketing professionals across Northern Ireland.
We have a fantastic line-up of digital experts and each month we cover a different topic. The next Forum on Wednesday 22nd May will see Debbie Rymer from SAND Marketing talk about Digital Strategy, and in the coming months we will help companies understand why they aren't getting customers from social media and ways they can combat this, tips on working with bloggers and influencers to grow your business and engaging with your audience."
To join the 2019 Digitalk: The Forum or for further information go to www.hastingshotels.com/digitalk, or email Donna Barton on digital@hastingshotels.com