Chef's Choice – New Menu unveiled at La Scala Bistro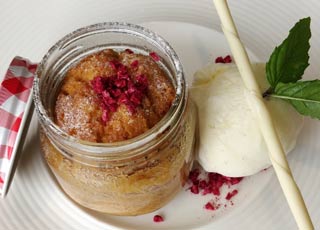 The Stormont Hotel is delighted to announce the launch of our new menu at La Scala Bistro. Packed with some local favourites and exciting new seasonal dishes using the freshest, finest produce from across Northern Ireland, Head Chef, Jay Eisenstadt talks through some of the new additions to the menu while highlighting some of his personal favourites.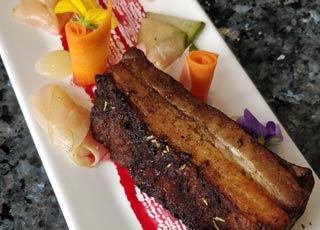 (Grants Spice Rubbed Pork Belly served with Bramley Apple Gel & House Made Pickled Vegetables)
'As we are fully in our Summer Weather here in Northern Ireland, our thoughts for the newest additions to our menu were "light, local, colourful, flavourful", from our new starters of Crispy Asian style Salt & Chili Squid with a fragrant watercress salad or our Baked Tomato & Shallot tart featuring locally grown multicoloured cherry tomatoes.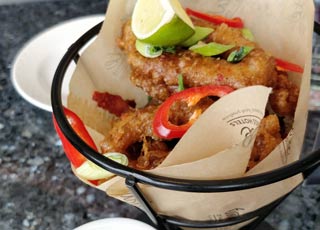 (Tender Squid lightly Fried and seasoned with Szechuan Peppercorns served with a Fragrant Watercress Salad & Lime and Coriander Aioli)
Try one of our flavour-packed new salads like the Grilled Halloumi Cheese Salad on a bed of Quinoa, or even the Green Cous Cous Salad with Sprouting Broccoli, Peas, Charred Leeks and dressed with a Mint Dressing made with the Mint Grown right outside our front door. Yum!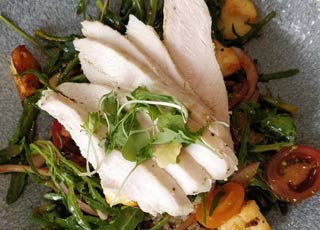 (Grilled Marinated Halloumi with Rocket, Watercress and mixed Baby Tomatoes on a bed of Quinoa with a Roasted Red Pepper Dressing (Chicken optional extra)
For something a little more comforting, but with a twist, our Spiced Lamb Tagine Pie is really something else. It's a very traditional pie with a non-traditional filling. If that's too adventurous for your taste buds, settle into our Slow Braised Mourne Rump of Lamb for a proper Belfast feed. Served with a Creamy Celeriac Puree and smashed comber potatoes it's a meal worth slowing down for. For our Vegetarian friends or lovers of vegetables why not try the fried Aubergine & Wild Mushroom Ragout, or for the more adventurous diner go for the Spiced Carrot Fritters and Smokey Tomatoes, beautiful and loaded with taste.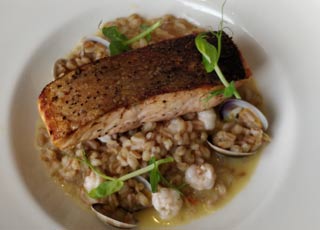 (Pan Seared Glenarm Organic Salmon Fillet Garnished with Portavogie Shrimp & Clams, served with Herbed Spelt Barley and finished with a Lemony Butter Sauce)
No meal would be complete at La Scala without one of our mouth-watering desserts. The toasted Pistachio Crème Brulee is a must, as is the White Chocolate & Raspberry Jam Jar Sponge. But if it's a chocolate fix you are craving, the Velvet Chocolate Torte with 2 different layers of chocolate ganache and finished with a scoop of Glastry Farm Hint of Mint Ice Cream is definitely a showstopper.'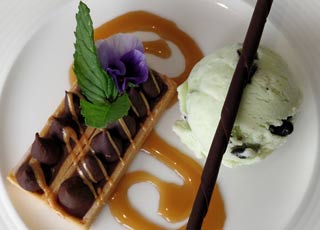 (White Chocolate and Raspberry Jam Jar Sponge Served with Glastry Farm Vanilla Bean Ice Cream)
We look forward to welcoming you to the Stormont Hotel soon.
For reservations at La Scala Bistro contact us on 028 9065 1066 or visit our website here.